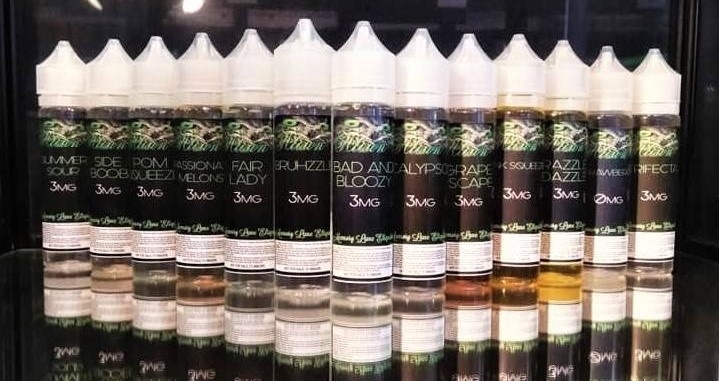 Memory Lane Menu
Bad & Bloozy: Blue raspberry slushie.
Bad & Bloozy Ice: Blue raspberry slushie with cool menthol.
Banana Foster: Caramelized banana topped with vanilla ice cream.
Banana Pear Crumble: Banana and pear mixed with vanilla and cinnamon, topped with sweet crunch and baked to perfection.
Berry Crunch: Berry crunch cereal.
Blue Jollies: Blue raspberry candies.
Boom Pop: Red, white, and blue popsicle.
Bruh-zzle: Blue raspberry fruit flavor.
Butterz: Butterscotch candy.
Calypso: Tropical mango and fruit blend.
Cowboy Killa: Traditional rich and smooth tobacco flavor.
Cthulu Freeze: Strawberry, kiwi, and mango frozen drink.
Enigma: Sweet and tangy blackberry and blueberry paired with a cool menthol.
Fair Lady: A tropical and refreshing fruit blend.
Funky Drip: Candied blue raspberry and green apple.
Gas Mask: Creamy butterscotch custard topped with sweet, toasted almonds.
Grape Escape: Grape and berry fruit medley.
Hand Grenade: Tropical fruit blend of guava and dragon fruit with a cool touch.
Heisenberg: Blue raspberry and blueberry with an ice cold finish.
Joe's Cream Dream: Creamy vanilla bean latte.
Just Custard: Just vanilla custard.
Kermit Pie: Key lime pie with graham cracker crust.
Krunk Berry: Berry crunch donut topped with sweet glaze.
Lemon Meringue Pie: Freshly prepared lemon meringue pie.
Mixed Berry Yo!: Strawberry, blueberry, and vanilla yogurt.
My Milkshake: Strawberry milkshake.
Passionate Melons: Cantaloupe, watermelon, and passion fruit.
Pink Squeeze: Pink lemonade.
Pom Squeeze:  Tangy and refreshing pomegranate lemonade.
Razzle Dazzle: Blue raspberry lemonade drink.
ROY G BIV: Bubble gum infused with rainbow candy medley.
Side Boob: Peach, mango, and papaya.
Sinful Memories: Ooey gooey freshly baked cinnamon roll.
Sorbet: Frozen rainbow sorbet to tickle your taste buds.
Spa Treatment: Cucumber and mint.
Straight Menthol: Straight up menthol cool blast.
Strawberry: Fresh, crisp strawberry.
Strawberry Yo!: Strawberry and vanilla yogurt.
Sugar Cookie: Vanilla sugar cookie.
Summer Sour: Blue raspberry paired with green apples for a candied summer treat.
Trifecta: All of our most popular fruits rolled into one, including watermelon, strawberry, blackberry, and guava.
Watermelon on Ice: Juicy watermelon with an ice cold finish.
White Worms: White gummy candy.
XXX: Pomegranate lemonade with a cool finish.
Yo!: Vanilla yogurt.